Complete Guide of Vendor Management System
What is Vendor Management System?
A Vendor Management System is a web-based software application that allows you to manage and procure staffing services for your company in one easy-to-use solution. Vendor Management software facilitates the interview and hire process, managing payroll and invoice data and collecting employee information.
It provides effective communication channels, and can be used by both small and large companies or industries. It enables businesses to take appropriate measures for controlling cost and helps reduce potential risks related to vendors.
Moreover, it ensures excellent service deliverability by setting organizational standards, and makes sure payments are made on time. A vendor management system in any organization or business ensures improved efficiency and long-term growth in a cost-effective manner.
Why is vendor management important?
In today's fast-paced digital economy business have to face tough competition. Hence, it is important to invest in a proper Vendor Management software or a HR Management Software to manage their workforce better. It helps communicate and build business relations to promote cross-functional strategies that create visibility and gives you access to data and greater control.
Features you should be looking for in a Vendor Management Software
It should help you to register vendors quickly and easily in multilingual lists and also give complete access to your vendor's information.
It should be able to rate vendor's performance like policy compliance and distribution quality.
Vendors should effortlessly be able to update their information, and get notifications on order and payment details.
You should be able to retrieve and verify vendor's data like business reports, financial and credit risk data, etc.
Benefits of Vendor Management System
Having the best Vendor Management Systems in your organization will help employers get the bigger picture of their entire contingent worker program. Moreover, selecting the right Vendor Management Software will keep you updated about your workforce with regard to sourcing and acquiring, improving program efficiencies and managing paying on-demand workers. Therefore, Vendor Management Software is considered as the key for the success of contingent workforce management program for any business. When companies keep workforce data in a digital location, they will be able to pre-set labour-intensive tasks and make sure hiring strategies are uniform across entire organization.
Given below are some of the benefits of using Vendor Management System for your business:
Increases Transparency
By employing a central contingent workforce management program, you will be able to get a better picture of your employees. You will be able to track their location, assets and various facilities they have access to and also payments received through a third party.
Increase the On-Boarding Process
Most skilled employees prefer to join businesses which are reliable as they are likely to have a definite process for payments, reimbursements and invoicing. When they are satisfied with these features they are more productive.
Automate Processes
HR and procurement teams in any organization have to scrutinize data while hiring and managing temporary workers. However today with vendor management system installed makes your work a lot easier as you will have all their data in one easy-to-use solution thereby saving your time and money with vendors. You will be able to respond to new opportunities and manage expenses and also extend assignments or contracts. With a growing external workforce, it is important for businesses to maintain contractor records like they do for their full-time staff.
Greater Control Over Reporting and Analytics
A good vendor management software can provide you with analytics tools which allows your need to benchmark pricing for temporary workers with specific skills. You' will be able to run hiring scenarios and also check whether you are paying more or less than your competitors so that they don't give your workers a better offer and lure the best talent away from you.
Saves Costs
The most significant benefits of vendor management system help your business save money as it manages your payroll and note discrepancies. It avoids additional recruiting costs and training costs. Moreover, it gives insight into different labour types and their associated rates to make better better data-driven hiring decisions.
Build Stronger Relations with Your Vendors
With vendor management system companies will be able to track pre-defined performance during the tenure of the contract with vendors. This gives you a better picture and control of your vendor selection and relationship. With an integrated vendor management system, employers can now be confident about the quality and value of service that will be delivered. This will further help build trust and loyalty required to keep reliable vendors as part of your organization's talent supply chain.

Ensure Efficient Compliance
A Vendor Management System will ensure governmental regulations are consistent across all areas of an organization's departments and locations. It reduces risk by maintaining all information in one system, helps control significant approvals and reminders such as VISA expirations, licensing course requirement, etc. It also avoids any inaccurate results as it has a single entry point for all of your business.
Reduces Hiring Time
This is one of the most important hiring metrics to Recruitment Managers. A Vendor Management software will help employers tap the right talent quickly and effectively. This not only decreases time to hire from months to just days, but also creates a better candidate experience.
Ensures Mobility into Payment Procedures
A good HR Management Software can track time and support payment processing and expense reimbursement from a desktop or mobile device. It is the most efficient and cost-effective means of electronic invoicing as it reduces time and facilitates automatic and detailed reporting.
Accurately Track Candidates
Online recruitment software has the most powerful applicant tracking capabilities that create an efficient hiring process associated with on boarding and off boarding of candidates. Employers can accept or reject information in the workflows as they have access to all hiring information through a Vendor Management System.
Greater Administrative Efficiencies
Vendor Management System can eliminate data duplication and cut down on administrative costs and clerical errors. It ensures compliance and also helps employers manage better relationships with their vendors. A Vendor Management system gives employers to gain control over their workforce and achieve total talent management in today's global and digital economy.
Better Value
Ultimately, implementation of a good vendor management system can result in long-term savings as well as improved earnings for your organization over a period of time.
How Vendor Management System helps HR/Staffing process?
Staffing agencies work with various suppliers and vendors. They use Vendor Management System to distribute jobs, to stay organized and to streamline the efficiency of receiving and updating jobs. This online recruitment software helps staffing agencies to find candidates to fill these jobs while reducing costs, enhance payroll and invoicing, gives access to critical data and increases business opportunities.
Finally, the right VMS for your business will allow you to modernize processes, and make strategic business decisions based on facts. With Vendor Management Software you can capitalize on new business opportunities in today's digital economy. If you are looking for the best Vendor Management Software for your business we at employastar can provide the right solution that will integrate withcompany's contingent workforce management program. So, why wait. Call us now for more details.
How Applicant tracking System works
How applicant tracking system works? The biggest change the recruitment industry is experiencing today is an overwhelming use of Applicant Tracking System Software. Almost all the fortune 500 companies have opted for ATS and even the middle sized companies are going for it. These days' candidates have to learn the mechanism of the ATS, if they want their resume to reach a real recruiter. So let's find out how applicant tracking system works .
What is an ATS Software?
An ATS software works as a software for recruiting and hiring. One of the basic jobs performed by an ATS is resume parsing. Resume parsing is one of the reasons, why ATS software is being preferred so much by the organizations. It saves them from the huge burden of going through thousands of resumes.
Hence, as most of the organizations are opting for ATS software a candidate needs to realize that his or her resume is never going directly to the HR manager. Each resume will go through the filtration of the ATS. ATS will extract the relevant information from the resume and segregate it standard categories.
Thereafter, it will save the file into the system in machine readable format. Once all the above mentioned procedures are completed then only your resume might reach to an HR depending on the ranking it received. Your resume ranking depends on the algorithm of the Applicant Tracking System.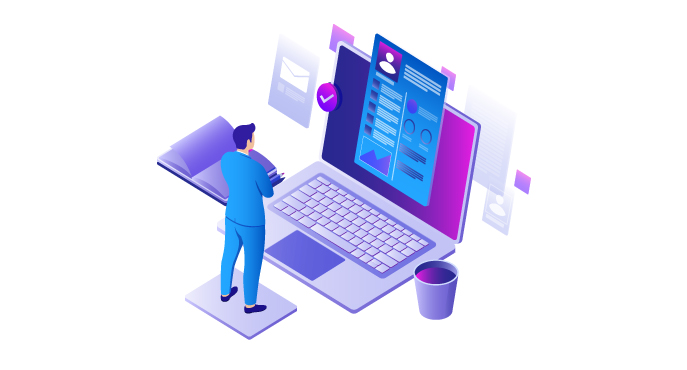 Employers prefer ATS Software
Any big or even mid-sized organizations have hundreds of jobs at a time and they receive almost thousands of resumes for each and every vacancy. When it was done manually it use to took several days to complete a recruitment process. Whereas with the use of ATS 95% of the hard work can be avoided as it filters out all the relevant resumes at once.
ATS stores and maintains all the records in a centralized database which maintains data hygiene. It helps the recruiters and the managers in staying organized and maintains the compliance with rules and regulations. An ATS also saves time by instantly filtering out the best and the most relevant candidate profiles.
ATS Software is taking over recruitment
According to the survey all fortune 1000 and 500 companies are using various Applicant tracking Systems for their recruitment needs. There are a number of ATS systems in the market with their features, lags and specialties. But a good ATS will have a cloud based system with a centralized database. It will need to have a good operating platform to work efficiently. Moreover it has to be accompanied by some extra features such as CRM, Vendor Management System, filtered search etc. to perform at the optimum standards.
How ATS Software functions
ATS collects and stores the candidate profile in a centralized database which professionals can access. The databases works with various social platforms and job portals to cross check the records and maintain a huge talent pool. The information in an ATS software can be stored even if the HR's are searching for relevant profile and someone is not actually looking for the job at that point of time. It also helps further in background check.
Filtering Resumes
Some recruiters still prefer to go through each and every resume so that no top talent goes unnoticed. In such scenarios also, an ATS software comes handy as a recruiter can go through all the information, once they have been presented in a systematic format. This helps more, in instantly reading out some key features of the resumes and then evaluate that does it deserve further attention. Hence, from candidate's point of view one should be crystal clear about mentioning the keywords and there should not be any ambiguity.
Automated Ranks
ATS these days have become smart enough to compare the candidate's profile with the job description. It will evaluate that how well your resume information is in line with the job description and will provide rankings on its basis. It eases the burden of the recruiters as they can focus on the best matches and spare themselves from going through the whole lot.
Keyword search
An ATS concentrates mainly on the keywords entered by the recruiter when searching for relevant profiles. Usually a search contains multiple relevant keywords. It makes a recruiter's job much easier and uplifts the quality of the recruitment as they can concentrate on researching the profiles. From a candidate's point of view, they should research and include all the relevant keywords in the resume to perform well with an ATS.
Resume format
Resume formats were also becoming a problem in manual recruiting as every candidate was coming with different formats and designs. First of all, many of the resumes looked much flashy rather than professional. Secondly finding the relevant information through various formats was becoming tedious and time taking. Hence, an ATS turns every resume in a machine readable document by segregating the information in a streamlined way.
Due to the volumes of resume, these days most of the recruiters never get your original resume, rather they get the machine version. This is an avenue, where your ATS needs to be really a functioning one. If your ATS algorithm is not equipped to go through complex information or not backed by a strong CRM operating system such as, Salesforce, Microsoft dynamics, Sap etc., then the results produced by ATS might miss some of the crucial profiles.
Viability of an ATS
While obsolete frameworks are still being used at some substantial organizations, we are seeing new ATS being created for the cutting edge technological companies. As managers battle for the best Profiles, interaction with candidate is gaining more importance. With the introduction of AI in the recruitment software the automation and the ranking system is here to stay and are just becoming more complex. So to go ahead in the current market an ATS software optimized resume is a necessity.
ATS Software in 2021: Expectations and Recommendations
An Applicant Tracking System (ATS Software) is much more than just a tracking and sourcing software. An ATS can streamline the hiring process, attract the top talent and instill automation in the hiring process. The demand for ATS software is steadily growing and last year its global market revenue was approximately 19 million and has been predicted to reach 36 million by 2025.
Last year the most used ATS software features were social recruiting, automated interview scheduling and bulk communication and profile segregation. So what are going to be the most used and expected features of a competent online ATS in 2021? Let's take a look.
Small and mid-sized businesses will expect the ATS to be all in one, easy to use, automated and affordable i.e. a perfect blend of ATS, VMS and CRM.
Big businesses are expected to continue the usage of the ATS at a steady rate, but the small and the middle sized companies will like to have a software which has all in one capability. Apart from performing the recruitment, it should also be able to perform the staffing and CRM capabilities.
It will become much more affordable if an ATS can perform the CRM, Staffing and VMS capabilities as the money spent on those processes will be saved and it will bring a streamlined and organized approach to every department, which will also save a lot of money, which gets wasted because of haywire management.
Large companies in 2021 might look for more enterprise level services such as HRIS, HRMS, and talent management functions within ATS software with more utility and options. But the small and mid-sized companies will look forward to an ATS software which will have all the necessary tools to manage various modes of recruitment from start to finish. It will save a lot of expenditure for the small and the middle sized companies as it will help in managing all the processes through single software.
An all in one, ease to use and automated ATS software also resolves the unnecessary complexities and expenses in the processes. Moreover small and the middle sized companies will also like to bring the VMS under the ATS as it will ease the transactions. So in short 2019 will be the year of an ATS which has the perfect blend of ATS, VMS and CRM.
Experienced recruiters will look for an ATS Software with smarter CRM capabilities
Post recruitment, the biggest problem faced by a recruiter is the performance of the employee in the new job role. It becomes a bigger problem if they have recently started hiring qualified people for important positions. Finding the right candidate will need much more utility and flexibility within your ATS. It will have to be based on a software platform which has some of the best CRM capabilities, such as, Salesforce, HubSpot, Fresh sales, etc.
Moreover, an ATS needs a good CRM as the profiles are stored in a CRM format. The amount of efficiency a CRM platform shows in functionality and the search feature is responsible for the quality of talent recruited as the amount of sourcing improves. An effective CRM system will help in maintaining an extensive talent pool.
Video SMS is the next best thing
Video messaging and voice controls have been introduced in recruitment software and can be the next best thing. Rather than sending an email, you can send a video message to the candidates. You can also perform the search through voice instructions into a CRM.
Some ATS are developing features with video messaging and voice mails. Some ATS even have been functioning with such features. But the feasibility of the proper functioning is still to be proven. Still, if it functions properly then it could really act as a google assistant
Operational excellence is more important than innovation
The ATS software development has reached a stage where it has achieved some of the best possible scenarios of human interaction. Now there are very few scopes of innovation. So in 2021, we will look forward to development in the operational parts of the Applicant Tracking System software. Companies will like to see more operational efficiency in VMS modules, easier implementation of automation, hassle frees scheduling, real-time updates, data in the much more segregated way and much more.
Building Talent Pipeline
These days' companies are focusing more on building a talent pipeline prior to recruitment. They are looking for a readily available talent database at any given point. In 2021 the companies will be more focused on automated screening, instant sourcing, prior campaigning, and recruitment marketing.