Welcome to employAstar!
employAstar offers a cloud recruitment software with a highly viable technology. We execute cloud based recruitment solutions like none other in the market today. We have successfully placed more than over 1, 00,000 senior personnel across top fortunes globally. Our extensive expertise and research, has enabled us to collaborate with organizations to onboard the best talent with quicker closures.
One Stop Cloud Recruitment Software
employAstar is a one stop cloud recruitment platform powered by Salesforce.com, Our scalable recruitment solutions have proven to be of high utility for several staffing agencies and recruiting departments. They have been able to achieve speed and efficiency in completing recruitment processes as they move beyond regular Applicant tracking system and embrace employAstar applications.
Mission: To be a global recruitment software provider most admired for its superior technology, innovative solutions and customer first approach.
Our set of clients primarily includes staffing agencies and recruiting departments. We provide a range of recruitment solutions to our clients through a customizable platform in areas pertaining to recruitment management, applicant tracking, social recruiting, candidate engagement, employee referral & more.
employAstar gives quick access to information on clients, contacts, candidates and requisitions. It helps to automate the recruitment process by enabling users track job openings, resumes, candidates and contacts efficiently using a sorting tool. It helps in all recruitment processes including resume procurement, publishing, rolling out offers and tracking performance at individual and organization levels.
Quick and easy set up and implementation sets employAstar apart from other web based recruitment solutions. Internet based access to employAstar makes recruitment process easy and cost effective. We aim at giving our clients a holistic and competitive recruitment process by using employAstar recruitment solutions.
employAstar can assist recruiters as the software automates the recruitment process to a great extent. Sorting resumes and screening them based on keywords, resume parsing, job posting and interview scheduling can be easily done using employAstar. Time-sheets, Invoice module & profit & loss module make the software reliable. Communicating with candidates, entering data,handling their interview process & other administrative duties like a time-sheet, invoice etc., can be done very quickly using employAstar solutions. It helps reduce costs through a paperless recruitment process using the internet. Our ATS enables improve productivity and quality of recruitment processes.
Why employAstar
What other people thought about the service provided by employAstar
Reduces Work Load
Cost Effective
Time Saving
Better Security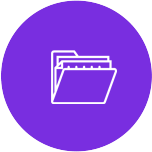 Better Storage